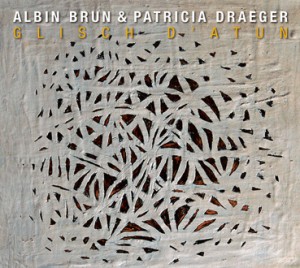 Sinds 2002 staan ze samen op het podium met verschillende groepen en ensembles: de Zwitserse saxofonist en schwyzerörgelispeler Albin Brun en accordeoniste Patricia Draeger. Dit jaar verscheen hun debuutalbum 'Glisch d'Atun' met eigen composities. Een CD die new folk op een originele manier verbindt met jazz- en geïmproviseerde muziek.
English version below
Het duo Brun/Draeger speelt een prachtige combinatie van accordeon, blaasinstrumenten en schwyzerörgeli: een Zwitsers diatonische accordeon die veelal wordt gebruikt voor het spelen van volksmuziek uit de Alpen. In een fraaie klankweerspiegeling bespeelt Albin Brun uiterst vakkundig dit instrument. Hij is een melodisch poëet die in combinatie met de accordeon van Patricia Draeger het adembenemend mooie titelstuk 'Glisch d'Atun' laat horen waarmee dit debuut opent. Een innovatieve samenwerking die verder wordt ontwikkeld tot een onlosmakelijk duo dat met verschillende instrumentcombinaties een heel eigen klankkleur creëert. Draeger speelt accordeon en accordina (soort mondharmonica) terwijl Brun wisselt van accordeon naar sopraansax en duduk (Armeens dubbelrietinstrument). Ze gebruiken daarbij diverse soorten muziek zoals Balkan/Gipsy ('Gadno Aynish'), het Nino Rota-achtige 'Simelibärg-Tango', de psalm in 'Gislers' en weer terug in Zwisterland met 'Frieburg-Jodel' steeds met mooie thema's (variaties) en improvisaties. Bijzonder fraai is de duduk in 'Lo', het uit abrikozenhout gemaakt nationale blaasinstrument uit Armenië. In de traditionele Armeense muziek wordt dit instrument vaak ondersteund door een 'drone'; een lang liggende toon die door een tweede duduk-speler wordt gespeeld door middel van 'circular-breathing' waardoor deze toon, (de 'drone' dus) lang doorklinkt als een hypnotiserende zachte klank. Die 'drone' wordt in 'Lo' gespeeld op de accordeon, later gevolgd door subtiele accordeon-akkoorden maar toch behoudt de dudukmelodie zijn serene subtiliteit. Prachtig! Brun/Draeger is een bedreven tweetal dat met goede instrumentbeheersing en virtuositeit het album 'Glisch D'atun' wereldkundig maakt en muzikaal het met gemak boven de Alpen uittilt!
English version
Since 2002 they play together, the Swiss saxophonist and schwyzerörgelispeler Albin Brun and accordionist Patricia Draeger who knew each other form several bands and ensembles. Now their wonderful début album 'Glisch d'Atun' is available with their own compositions. A new album which connects folk with jazz and improvised music in an original way.
The duo Brun / Draeger is a wonderful combination of accordion, wind instruments and schwyzerörgeli: Swiss diatonic accordion which is widely used for playing folk music from the Alps. Albin Brun plays very skillfully this instrument. He is a melodic poet who takes your breath away by the amazing title track 'Glisch d'Atun' on which he plays the schwyzerörgeli with the accordion by Patricia Draeger, the opening piece on this recording. An innovative collaboration that is further been developed into an inseparable duo creating a very different sound with several instrument combinations. Draeger plays accordion and the accordina (kind of mouth-harmonica) while Brun varies from accordion to soprano sax and duduk (Armenian double reed instrument). They use thereby various kinds of music like Balkan/Gypsy ('Gadno Aynish'), the Nino Rota-like 'Simelibärg-Tango', the psalm touch in 'Gislers' and back to Switzerland with 'Frieburg-Jodel'. All the compositions have nice theme's (variations) and improvisation. Particularly attractive is the duduk in 'Lo', the national wind instrument from Armenia made out of apricot wood (picture right). In traditional Armenian music this instrument is often supported by a drone; a long reclining tone by second duduk player played through 'circular-breathing' creating a hypnotic sound with a soft tone. That drone in 'Lo' is played on the accordion, followed by subtle accordion chords, but the duduk melody still remains serene and subtle. Gorgeous! Brun / Draeger is a very fine duo, with good musicianship and virtuosity. The musical value of this album 'Glisch d'Atun' reach even higher than the Alps and ready for worldwide exposure!
© Mattie Poels.