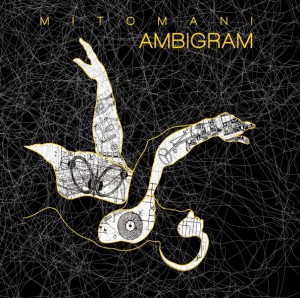 De Poolse groep Mitomani bestaat uit vijf leden die allemaal in Polen en Nederland studeerde. Op hun nieuwe CD 'Ambigram' etaleert dit kwintet zich als een zeer veelzijdig gezelschap dat balanceert over de rand van klassiek, folk, jazz, tango en klezmer. Secuur, nauwgezet en zeer origineel!
English version below
De muziek van Mitomani is kernachtig en to the point. Niet stijlgebonden, nee, het is juist de organische mix van stijlen die hun muziek zo bijzonder maakt. Moeiteloos switcht de groep tussen folk, klassiek, klezmer, tango en gipsymuziek. Per nummer of soms per deel laat de groep een andere sfeer horen die zo ferm en zeker wordt gespeeld dat de muziek staat als een huis. Niet zo vreemd want de vijf leden (twee vrouwen en drie mannen) hebben allen muziek gestudeerd in Polen en later in Nederland. De combinatie viool, cello, (bas)gitaar, (bas)klarinet, accordeon, fluit, zither en percussie biedt veel mogelijkheden die per nummer verschilt. En juist die verscheidenheid aan instrumenten biedt niet alleen een klankspectrum in de breedte, maar ook in de diepte. Hierdoor klinkt Mitomani degelijk en doorwrocht en tegelijkertijd solide en fris. Ze spelen veel traditionele stukken uit de Oekraïne, Polen, Bulgarije, Rusland en enkele stukken van de accordeonist Maceij Werzcholowski die met zijn spel in het Klezmeriaanse 'Gasn-nign' lijkt op Jerzy Bawoł van het legendarische trio Kroke uit Polen. De muziek op 'Ambigram' is instrumentaal op het lied 'Kantyczki Warminskie' na dat door celliste Aleksandra Rybak-Zymla prachtig overtuigend wordt gezongen aangevuld met mannenzang. Daarnaast wordt het slot van 'La Valse' gezongen door percussioniste Marianna Soroka. De instrumentaal gespeelde klassieker 'Aan de Amsterdamse Grachten' klinkt alsof die grachten nog nooit zo helder zijn geweest. Mitomani is dus een Pools gezelschap dat door hun studie in Den Haag al bijna landgenoten zijn geworden: en daar zijn we best trots op!
English version
The five members of the Polish group Mitomani all studied in Poland and the Netherlands. On their new CD 'Ambigram'  the quintet shows to be a very versatile ensemble, balancing on the edge of classical, folk, jazz, tango and klezmer. Wonderful and original music!
The music of Mitomani is to the point. Not stylistic, no, it is the organic mix of styles that makes their music so special. The group switches easily between folk, classical, klezmer, tango and gypsy music. In every piece or part they create a different atmosphere, firmly and tight played. This is not surprising because the five members (two women and three men) have all studied music in Poland and later in the Netherlands. The combination of violin, cello (bass) guitar (bass) clarinet, accordion, flute, zither and percussion offers many features that vary in every song. This variety of instruments provides a very wide sound spectrum which makes Mitomani sounds clear and fresh. They play many traditional pieces from the Ukraine, Poland, Bulgaria, Russia and a few pieces written by the accordionist Maceij Werzcholowski. Sometimes he sounds a little like Jerzy Bawoł of the legendary trio Kroke from Poland, like in his composition 'Gasn-nign'. The music on 'Ambigram' is instrumental. Only in the vocal song 'Kantyczki Warminskie' we hear the lovely voice of Aleksandra Rybak-Zymla who also play cello, completed with male vocals and the last part of 'La Valse' is sung by percussionist Marianna Soroka. In the Dutch classic 'Aan de Amsterdamse Grachten' the band shows a great atmosphere from the Netherlands. Mitomani is a Polish ensemble who studied and lives in The Hague. So they have almost become Dutchman and we are proud about that!
Mitomani: 'Ambigram' (PanRecords)
© Mattie Poels.