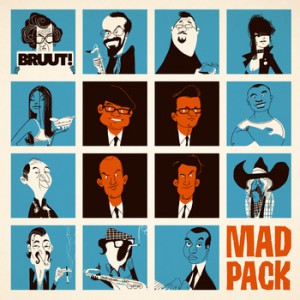 Het kwartet BRUUT! is een intermediaire tussen heden en verleden. De groep balanceert vakkundig op het snijvlak, het break-even punt waar muziek uit midden vorige eeuw assimileert met de sound van de toekomst. 'Mad Pack' heet hun derde cd. Een persoonlijk album waar in elke track één persoon centraal staat: van 'Sjaco' tot 'Scott' in twaalf beeldende illustraties.
English version below
BRUUT! schept een beeldend, virtueel tekenfilmdecor waarin pakkende thema's moeiteloos een mystieke suggestie uitlokken. En het is juist die suggestie die deze muziek zo enerverend maakt. Groovende ritmiek, smeuïg bonkende orgelpartijen met een ritmische toplaag van de funky (alt)sax. Verzorgde muziek die zijn begeestering niet onder stoelen of banken steekt maar hem denkbeeldig laat ronddwalen in rokerige café's, met diffuus licht en beslagen ramen. Steeds met een glimlach, catchy en to-the-point. Elke stuk heeft een eigennaam; van 'Sjaco' naar 'Bill' via 'Eddie' (Harris) naar 'Dex'(ter Gordon) prachtig geïllustreerd op de hoes door Emanuel Wiemans. Bijzonder is 'Hannie', een duo-werk voor hammondorgel & sax en het sferische 'Nazaire' met een Ethiopische kleur en prachtige orgel accenten. 'Mad Pack' sluit af met 'Scott', opgedragen aan de King of Ragtime Scott Joplin (1868-1917). Een New-Orleans achtig stuk dat niet zou misstaan voor de aftiteling voor vier uitstekende musici!
Maarten Hogenhuis; saxen / Folkert Oosterbeek: orgels / Thomas Rolff: contrabas / Felix Schlarmann: drums
*Meer muziek van drummer Felix Schlarmann – klik hier.
English version
The band BRUUT! is an intermediary between past and present. The group is skillfully balancing on the cutting edge or at the break-even point where music from the '50's easy assimilates with the sound of the future. 'Mad Pack' is the name of their third CD. A personal album where every track is named after a (fictitious) person, like 'Sjaco' or 'Scott' altogether fit in twelve visual illustrations.
BRUUT! creates a visual, virtual animated scene where catchy themes effortlessly evoke a mystical suggestion. And this suggestion makes the music so exciting. Grooving rhythms, smooth throbbing organ parts with rhythmic top layer of a funky (alto) sax. Groomed music which makes you feel like being in smoky bars, with diffuse light and fogged windows. Everything played with a smile, catchy and to-the-point. Each piece has its own name: from 'Sjaco', 'Bill' to 'Eddie' (Harris) or 'Dex'(ter Gordon) beautifully illustrated on the cover by Emanuel Wiemar. Exciting pieces are 'Hannie', a duo work for Hammond organ and sax and the spherical 'Nazaire'. An Ethiopian coloured composition with beautiful organ accents. 'Mad Pack' ends with 'Scott', dedicated to the King of Ragtime Scott Joplin (1868-1917). A New Orleans-like piece that would fit for the credits of for four excellent musicians!
BRUUT!: 'Mad Pack' (Dox-Records)
© Mattie Poels.