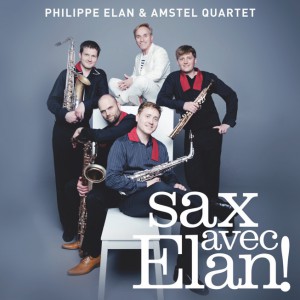 'Sax Avec Elan!' heet de nieuwe cd van de Franse zanger Philippe Elan, opgenomen met het Amstel Quartet. Elan woont sinds de jaren '80 in Amsterdam en nam sindsdien tien albums op, gaf veel concerten en maakte theatertournee's. Tegenwoordig werkt hij met Reyer Zwart van wie ook enkele arrangementen te vinden zijn op zijn nieuwe cd.
English version below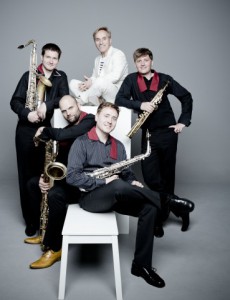 Philippe Elan heeft dat typisch Franse stemgeluid met lichte keeltriller. Een warme, ronde stem die perfect aansluit bij het repertoire dat hij zingt. Frans chanson, aangevuld met werk van Nick Drake, Piazzolla en twee in het Nederlands gezongen liedjes van Ramses Shaffy en Harry Bannink. Aangevuld met een instrumentaal van Rein van den Broek; ooit nog de trompettist van het legendarische Ekseption. Philippe Elan wordt begeleid door het Amstel Quartet: Remco Jak – sopraansax, Olivier Sliepen – altsax, Bas Apswoude – tenorsax en Ties Mellema – baritonsax. Het resultaat is verbluffend. Deze vier musici spelen vlijmscherp. Met feilloze intonatie creëren ze een soepele en eenduidige begeleiding. De arrangementen, van o.a. Bob Zimmerman, Reyer Zwart en Silvia Maessen, raken de kern van de muziek. En alhoewel deze bewerkingen redelijk nauwgezet het origineel volgen, worden er hier en daar wat kleurrijke akkoorden en ritmes toegevoegd waardoor de muziek nog meer nuance krijgt. De repertoirekeuze is daarentegen ietwat belegen. Voor de zoveelste keer 'Non, je ne regrette rien', 'La mer', 'Non, je n'ai rien oublié' of 'La Vie en Rose', al dan niet geperst in een medley. Maar Phillippe Elan zingt deze liedjes met zoveel charme en bevlogenheid dat hij met gemak bewijst waarom deze chansons klassiekers zijn geworden. Bijzonder fraai is 'Amsterdam' (J. Brel/arr. W. van Klaveren) waarin hij in één lied laat horen wat voor fraai vertolker hij is: van een subtiel en ingetogen start naar een zwierend slot. Subliem!
Il est cinq heures, Paris s'éveille oke
Zing, vecht, huil, bid, lach, werk en bewonder oke
English version
'Sax Avec Elan!' is the name of the new CD by the French singer Philippe Elan, recorded with the Amstel Quartet. From the '80's he lives in Amsterdam and since then he recorded ten albums, gave many concerts and made theater tours. Today he's accompanied by Reyer Zwart who also arranged some pieces on his new CD.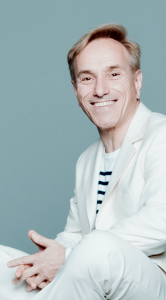 Philippe Elan has that typical French voice with slight throat trill. A warm, mellow tone that fits perfectly with this repertoire. French chanson, supplemented by work of Nick Drake, Piazzolla and two Dutch songs by Ramses Shaffy and Harry Bannink. Plus one instrumental piece by Rein van den Broek; the trumpeter of the legendary Ekseption. Philippe Elan is accompanied by the Amstel Quartet: Remco Jak – soprano sax, Olivier Slept – alto sax, Bass Apswoude – tenor sax and Ties Mellema – baritone. The result is amazing. These four musicians play extremely well. With flawless intonation they create a smooth and consistent accompaniment. The arrangements by Bob Zimmerman, Reyer Zwart en Silvia Maessen, touch the essence of the music. And although they are fairly closely follow the original, here and there there are some colorful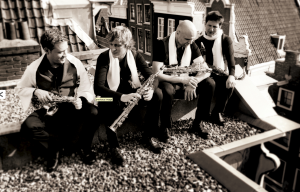 chords and rhythms added which gives the music more nuance. The repertoire contrast somewhat stale. For the umpteenth time 'Non, je ne regrette rien', 'La mer', 'Non, je n'ai rien oublié' or 'La Vie en Rose', whether or not compressed into a medley. But Phillippe Elan sings these songs with such a wonderful charm: an easy evidence why these chansons became classics. Particularly attractive is 'Amsterdam' (J. Brel/arr. W. van Klaveren) in which he shows what a fine performer he is: a subtle, subdued start to a swinging end. Sublime!
Philippe Elan & Amstel Quartet: 'Sax Avec Elan!' (AmstelRecords/HarmoniaMundi)
Foto Phlippe Elan – Marco Borggreve
Foto Amstel Quartet – Maarten van Rossem
© Mattie Poels.