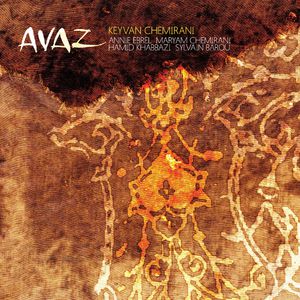 De Iraanse musicus Keyvan Chemirani houdt van muzikale mengvormen. Zijn laatste cd 'Avaz' is een vooruitstrevende Iraans/Bretonse combinatie waarin de Bretonse zangeres Annie Ebrel en de Iraanse Maryam Chemirani worden begeleid door de Iraanse tar-speler Hamid Khabbazi, de Bretonse fluitist/dudukspeler Sylvian Barou met percussionist Chemirani.
English version below
De cd 'Avaz' opent met een Iraans intro op tar en tombak: een snaarinstrument en vaastrommel. Twee typisch Iraanse instrumenten die veelvuldig gebruikt worden voor de begeleidingen van liederen uit de 12de en 13de eeuw van dichters zoals Rûmi en Hafez. Zodra de Bretonse zangeres Annie Ebrel zingt in het openingslied 'Me am eus ur feunteun', krijgt de muziek een onmiskenbaar Bretonse kleur. Als dan verderop in datzelfde lied de Iraanse zangeres Maryam Chemirani het roer overneemt, kleurt het timbre weer naar het oosten. De Bretonse en Iraanse zang hebben beiden hun karakteristieke kenmerken die op 'Avaz' prachtig samensmelten tot één magisch muzikaal prisma. Er ontstaan veelkleurige melodieën die de muziek in zijn essentie laat schitteren. Sobere liederen, veelal over de liefde, aangevuld met Bretonse gwerziou. Klaagliederen die zich moeiteloos vleien binnen dit overwegend Iraans album. De muziek wordt speels en opzwepend begeleid met fluiten (en duduk: Armeense hobo), tar (snaarinstrument) en percussie, met een nummer op santoor (soort cimbalon). Op 'Avaz' staan ook enkele instrumentale stukken die prachtig mêleren naast het gezongen werk. De cd is geproduceerd door Jacky Molard. Een Bretons musicus die al eerder opviel vanwege zijn bijzondere project met Erik Marchand et Les Balkaniks ('Pruna' uit 2004) en het album 'N'Diale' uit 2010 dat hij opnam met o.a. de Malinese zanger Foune Diarra. Muzikale projecten waar hij de Bretonse zang mixt met andere stijlen. Op 'Avaz' combineert hij de Iraanse met de Bretonse muziek: een uniek concept dat muzikale luiken opent waarvan je niet eens wist dat ze bestonden.
English version
The Iranian musician Keyvan Chemirani loves musical hybrids. His latest album 'Avaz' is a progressive Iranian/Breton combination where the Breton singer Annie Ebrel and Iran Maryam Chemirani are accompanied by the Iranian tar player Hamid Khabbazi, Breton flutist Sylvain Barou and percussionist Chemirani.
The CD 'Avaz' opens with an intro on the Iranian tar and tombak: a stringed instrument and a drum vase. Two typical Iranian instruments which are widely used for the accompaniment of songs from poets of the 12th and 13th century such as Rumi and Hafez. When the Breton singer Annie Ebrel starts to sing in the opening song 'Me am eus ur feunteun', the music gets an unmistakable Breton color. If then later, in that same song, Iranian singer Maryam Chemirani takes the lead, the timbre turns to the East. Breton and Iranian singing both have their own characteristic features; on 'Avaz' beautifully merge into a musical magical prism. Arise multicolored melodies sparkle in the essence of this wonderful music. Sober songs, mostly about love, supplemented by Breton gwerziou. Lamentations that effortlessly flattering within this predominantly Iranian music. The songs are accompanied by a rousing playful flutes, tar (stringed instrument) and percussion with one song on santoor (kind of cimbalom). On 'Avaz' there are also some instrumental pieces that beautifully mingle besides the songs. The CD was produced by Jacky Molard (centre picture above). A Breton musician who already noticed for his special project with Erik Marchand et Les Balkaniks ('Pruna' from 2004) and the album 'N'Diale' from 2010 which he recorded with the Malian singer Foune Diarra. Musical projects in which he mixes Breton singing with other styles. On 'Avaz' it's the Iranian/Breton music mix: an unique concept that musical shutters open you didn't knew they never existed.
Keyvan Chemirani: 'Avaz' (Innacor Records)
© Mattie Poels.