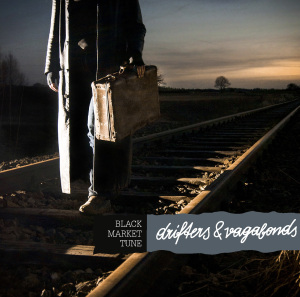 De Oostenrijkse folkband Black Market Tune veegt de vloer aan met traditie. De groep speelt op 'Drifters & Vagabonds' een royale mix van folk tegen een Schotse, Zweedse en Oostenrijkse achtergrond, aangevuld met pop en jazz. Dit kwartet mengt traditionele stukken met nieuw geschreven werk dat ze op eigenzinnige wijze laten horen op hun debuut-album.
English version below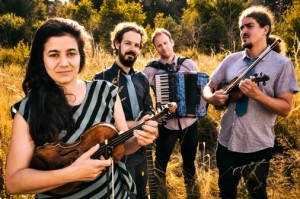 De Oostenrijkse violist Paul Dangl is de evenknie van de Gentse violist Wouter Vandenabeele. Beide musici gaan op zoek naar oud repertoire dat zij bewerken en tillen naar het heden met moderne ritmes, innovatieve arrangementen en gebruik van samples. Paul Dangl is de oprichter van het kwartet Black Market Tune waarin naast hem, ook accordeonist Colin Nicholson, snarenspeler Christian Troger en violiste Johanna Kugler zitten. De groep heeft een zelfverzekerde uitstraling, speelt compact en overtuigend. Goed gevonden is de hedendaagse tint in de folk-jodel 'Set for Hope', de accordeon-zucht in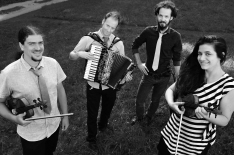 'Lundholm' waarin de accordeonist de blaasbalg induwt en zonder een toets in drukken, waardoor er geen toon klinkt, het instrument zucht en steunt. Werkelijk bloedstollend is 'Kind of Swedish', dat met zijn serene intro en de Indiase invloed van de vioolsolo een juweel is. Naast veel instrumentale stukken klinken er ook enkele minder geloofwaardige vocale werken die worden gezongen in het Duits en het Engels. Toch moeten we Black Market Tune in de gaten houden, want wie met zijn debuut-cd al zó'n deuk in de folk-muziek slaat, heeft de toekomst aan zijn zijde!
English version
The Austrian band Black Market Tune plays folk in their own way. The group plays a generous mix of music in a kind of Scottish, Swedish and Austrian folk, complemented with pop and jazz on their album 'Drifters & Vagabonds'. This quartet mixes traditional pieces with newly written work on this debut album.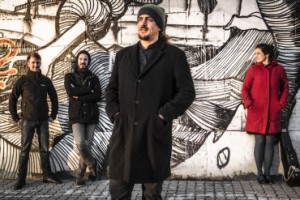 The Austrian violinist Paul Dangl is like the Ghent's violinist Wouter Vandenabeele. Both musicians are looking for old repertoires that they edit and lift to the present with modern rhythms, innovative arrangements and the use of samples. Paul Dangl is the founder of the quartet Black Market Tune, in which he, also accordionist Colin Nicholson, string player Christian Troger and violinist Johanna Kugler play. The group has a self-confident appearance, plays compact and convincing. Well done is the contemporary feel of the folk 'jodel' in 'Set for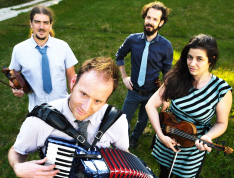 Hope', the accordion sigh in 'Lundholm' in which the accordionist pulls his instrument, only to hear a sigh, not a tone. Really splendid is 'Child of Swedish', which is a jewel with its serene intro and the Indian influence of the violin solo. In addition to many instrumental pieces, there are also some less credible vocal works that are sung in German and English. Nevertheless, we need to keep an eye on this great band Black Market Tune, because anyone who has a folk debut like they have, the future will be on their side!
Black Market Tune: 'Drifters & Vagabonds' (Galileo)
© Mattie Poels.