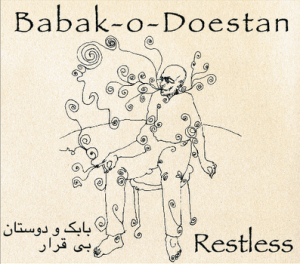 Babak-O-Doestan is de Amsterdamse groep rond de Iraanse zanger, gitarist en componist Babak Amiri, aangevuld met twee Nederlandse musici, een Turkse en een Canadese muzikante. Op basis van Perzische gedichten speelt de groep een mix van westers en oosterse muziek tegen een Iraanse achtergrond.
English version below
'Babak-O-Doestan' betekent 'Babak en vrienden'. Een groep gelijkgestemden die op innovatieve de wijze de muziek uit het Midden-Oosten een stuk dichterbij brengt. Opmerkelijk daarbij is de bezetting van dit kwintet waar we naast de akkoordinstrumenten piano en gitaar ook de basgitaar, Spaanse cajon (kist trommel) en de cello tegenkomen. Babak Amiri (foto) schreef alle liedjes op Perzische teksten van o.a. Ahmad Shamlu (1925-200) en de Sufi dichter Rumi (13de eeuw). Open helder gearrangeerde stukken die bijzonder fraai worden gezongen en waarmee hij moeiteloos de ziel van de muziek raakt. Composities vol prachtig akkoord progressies en goed gevonden instrument combinaties, met affectie uitgewerkt. Toch blijft het geheel wat braaf. Meer dynamiek en wringende dissonanten zouden de muziek van Babak-O-Doestan in een breder perspectief plaatsen en 'Restless' net iets meer aangename rusteloosheid meegeven.
English version
Babak-O-Doestan is an Amsterdam based band from the Iranian singer, guitarist and composer Babak Amiri, added with two Dutch musicians, a Turkish and a Canadian. Based on Persian poems the group plays a mix of west and eastern music in a Iranian background.
'Babak-O-Doestan' means 'Babak and friends'. In a modern way the group brings the music from the Middle East a lot closer. Remarkable are the instruments they use. Besides the chord instruments piano and guitar, we hear the bass guitar, Spanish cajon (box drum) and the cello. Babak Amiri wrote all the songs on Persian poems written by such as Ahmad Shamloo (1925-2000) or the Sufi poet Rumi (13te century). Open sparkling music, sung freshly by Amiri in which he easily touch the heart of the music. Compositions full of inventive chord progressions and original instrument combinations, all arranged with charming affection. But still it sounds a little gallant. More dynamic and twisting harmonies would put the music of Babak-O-Doestan in a broader perspective and give 'Restless' that nice agitated feeling.
Babak-O-Doestan: 'Restless' (Eigen Beheer)
© Mattie Poels.